Warsaw, Poland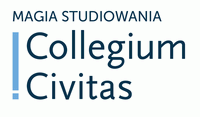 Business Management
Bachelor's
Language:
English

Subject area:
economy and administration
Kind of studies:
full-time studies
Description:

pl

Collegium Civitas is a modern school which follows the newest trends in management education. While working on the program a team of experts and practitioners studied the achievements of the leading business schools in the area of management education, as well as the expectations of employers towards fresh graduates of management studies in order to create a unique studies program which will provide Collegium Civitas graduates with skills required by future employers.
We put a strong emphasis on teaching our students business principles and processes so that our graduates understand the specifics of all firm activities, thanks to which future managers from Collegium Civitas will posses a good understanding of all department employees needs which will result in a smooth cooperation with them.
Collegium Civitas staff's expertise and achievements allowed us to craft program in wchich teaching soft skills, such as: communications, group work, negotiations, multicultural management, change management etc. plays a major role.

A majority of our courses are offered as workshops which allow students to acquire practical skills as well as to develop a very important skill for all managers - the skill of teamwork.
The last semestr of the program provides work experience as the students work on their own project in a company . This project is a base for Bachelor's dissertation.