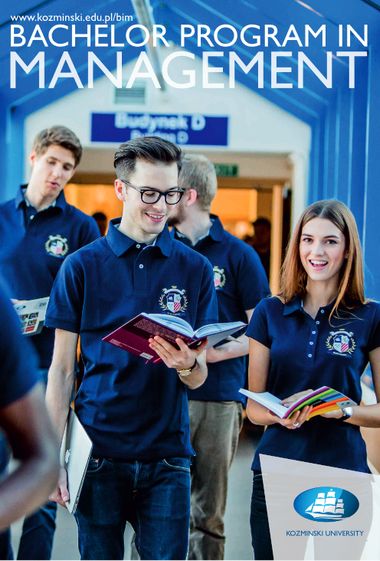 Bachelor in Management
6 semesters
English
180
description
The three-year Bachelor Program in Management (equivalent to a BSc or a BComm degree) is designed for students who are interested in pursuing managerial and entrepreneurial careers in both domestic and international companies.
Conducted in English, the program consists of six semesters. Its objective is to provide students with a solid foundation in management, finance, accounting, human resource management, and other business related areas in a real-world setting.
Guided by our accomplished faculty students acquire the comprehensive knowledge, practical skills, and analytical tools needed to establish a successful enterprise or perform effectively as a manager.
The program includes a professional internship and enables students to choose a specialization in Entrepreneurship, Marketing or International Management. Each specialization offers its participants the ability to gain a deeper knowledge and to fine tune the skills within specific areas of management necessary to successfully confront the numerous challenges when pursuing a international professional career.
tuition
Tuition per semester when paid in full 8900 PLN
Tuition per semester in 5 installments 5 x 1800 PLN
Admission fee 750 PLN
deadline
EU citizens - 15 September, non-EU citizens - it is advised to apply before 1 August because of the visa process
contact
Kozminski University
Address: ul. Jagiellońska 57/59,
03-301 Warsaw, Poland
Tel.+48 22 519 22 69
Fax: +48 22 519 23 09
E-mail: admission@kozminski.edu.pl,
Admission Coordinator: Dana Duda
institution
Kozminski University
Holders of high school diplomas may apply for the Bachelor programs. A certificate of proficiency in English for foreigners is required (unless the high school courses were taught in English).
Foreigners may apply for the following scholarships after the first semester of studies: Academic Scholarships, Sport Scholarships, Scholarship of the Minister of Science and Higher Education
Management
Management (or managing) is the administration of an organization, whether it is a business, a not-for-profit organization, or government body. Management includes the activities of setting the strategy of an organization and coordinating the efforts of its employees (or of volunteers) to accomplish its objectives through the application of available resources, such as financial, natural, technological, and human resources. The term "management" may also refer to those people who manage an organization.
Management
A company will get nowhere if all of the thinking is left to management.
Akio Morita (1987). Made in Japan, p. 149
Management
Mission is at the heart of what you do as a team. Goals are merely steps to its achievement. Mission has an eternal quality. Goals are time bound and once achieved, are replaced by others.
Patrick Dixon (2005) Building a Better Business - the key to management, marketing and motivation. p. 66
Management
Management as an activity has always existed to make people's desires through organized effort. Management facilitates the efforts of people in organized groups and arises when people seek to cooperate to achieve goals.
Daniel A. Wren and Arthur G. Bedeian. The evolution of management thought, 1972, p. 11-12